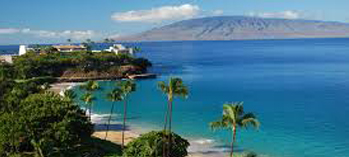 Stand above a sea of clouds high atop Haleakala. Watch a 45-foot whale breach off the coast of Lahaina.  Lose count of the waterfalls along the road as you maneuver the hairpin turns of the Hana highway. One visit and it's easy to see why Maui is called "The Valley Isle."
The second largest Hawaiian island has a smaller population than you'd expect, making Maui popular with visitors who are looking for sophisticated diversions and amenities in the small towns and airy resorts spread throughout the island.
From the scenic slopes of fertile Upcountry Maui to beaches that have repeatedly been voted among the best in the world, a visit to the Valley Isle recharges the senses. But like every good magic trick, you'll have to see it for yourself to believe it.
There are a wide range of accommodations on Maui, including high-end resorts, hotels, bed and breakfasts, and rentals. You'll find resorts and hotels in Kapalua, Kaanapali, Lahaina, Kihei, Makena and Wailea on Maui's sunny western coast as well as one resort in Hana in east Maui.
Anytime of year is a good time to visit Maui. The average temperature here is between 75-85 F.  Summer, between April and November, is warmer and drier while winter, between December and March, is a bit cooler. Trade winds keep things comfortable year-round. It is generally drier on the western (leeward) side and wetter on the eastern (windward) side.